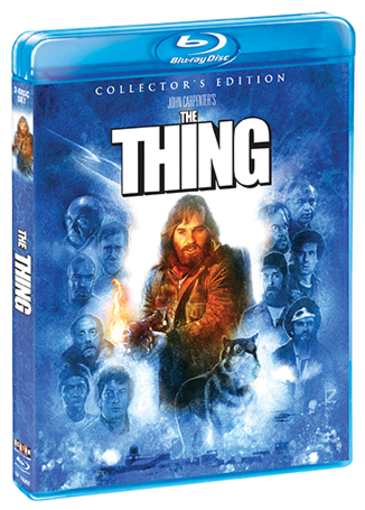 OVERVIEW
The Thing is considered to be one of Carpenter's best movies slammed by critics and misunderstood by audiences at the time, it is now revered as one of the best in science-fiction horror with a notable and impressive set-pieces, performances, special effects and a well-crafted paranoia sub-plot woven in.
PLOT
The plot starts off with a mystery an alien craft crashing into earth then it is 1982 and a helicopter is casing a dog trying to shoot it in the baron snow. Another outpost is seen yonder and the story movies on from there. The tension starts of quick when the dog settles into the camp.
Carpenter uses a clever use of inter-tension between the characters establishing that the camp is cut off from the rest of the world and that communications have been down for over 2 weeks this is a good starting point for finger pointing and the ultimate breakdown of the team in question.
When "The Thing" reveals itself each character acts in their "own way" no room for generic reactions nor generalisations this plot is people driven, and I think that is what makes this movie stand-out from other horror movies at the time these aren't cardboard cut-outs. Subtle dark humour is also peppered throughout the movie breaking and reestablishing an aura of tension.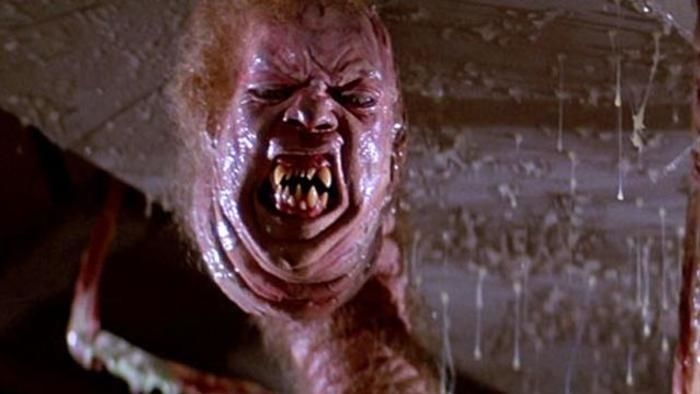 SPECIAL EFFECTS 
The Special makeup effects were done by Rob Bottin who is well established in his own right for movies such as "Robocop" and "Total Recall" he uses a clever mix of puppetry, plastic resins, rubber and gloop to create a truly memorable shapeshifting alien.
This was helped no doubt by cinematographer Dean Cundey with its clever use of lightening and trick photography an amazing visual experience. I viewed this movie in HD (1080p 24fps) on Blu-ray by Shout! Factory Special 2k Edition. The picture was pristine, sharp and clear with colours thick and saturated well the main difference is the change in hue with bluish and purplish tones throughout which I think aids the movies environment.
CONCLUSION
This is a highly atmospheric well-crafted movie that which in many ways has it all going for it with a stellar cast, amazing and memorable effects and a well-crafted and executed plot. Highly Recommended